Leadership Cafes
These are highly experiential, powerful customized learning cafes using Harvard Case Study Methodology for the extremely time-conscious senior leadership teams. Shyamli brings her expertise as a trained Harvard Case Study Based Methodology practitioner to these sessions to pick up and debrief cases which are relevant to the topic at hand, making the learning extremely impactful.
Key take ways
Will enable participants to

Lead to powerful reflections for connecting the topic in hand with organizational realities
Create practical techniques to manage organizational dynamics, leveraging the tools discussed in the session.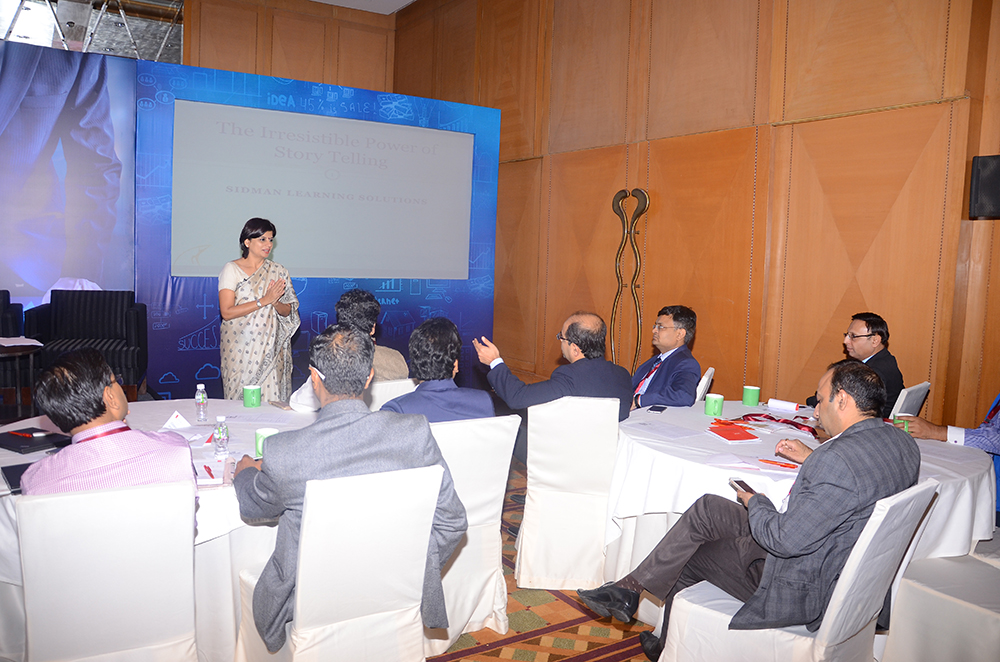 Storytelling for Business Leaders
In a VUCA world, aligning your teams rapidly with changing organizational priorities, getting a buy-in for a difficult call of action, and establishing your credibility in a short time-span across culturally diverse stakeholders is a reality most business leaders face on an ongoing basis. In this context, leadership is essentially a task of influencing people and winning their hearts and minds. A well-crafted story which is delivered effectively can be a very powerful tool for meeting any of the above objectives.
Key takeaways
In this session participants will:

Learn the art and science of creating various types of stories to meet various objectives such as inspiring their team towards a common vision or building personal credibility
Practice the technique of delivering a well-crafted story using a simple seven-step process.
Building your Leadership Brand
This program uses a rich methodology of psychometric assessments, personal self-reflection, and peer feedback catering to senior executives for helping them develop a strong leadership brand in line with their organizational role.
Key takeaways
In this session participants will:

Assess their unique strengths
Develop a compelling personal brand
Learn strategies to ensure that others recognize their powerful contributions
Leadership Communication Strategies
People are drawn to and inspired by leaders who connect easily with others and have an immediate impact. This program helps participants to discover and embrace their unique leadership voice.
Key takeaways
Will help business leaders understand:

Their innate communication style
Create strategies to communicate more authentically with a variety of stakeholders
Leaders Build Leaders: Advanced Facilitations Skills
This workshop focuses on the art and science of creating deep and meaningful classroom dynamics through effective facilitation. This program uses the principles of adult learning and instructional design, along with Harvard Business School's method of participant-centered learning. It incorporates intensive teach-back with exhaustive one-on-one feedback.
Suitable for

Managers and above who are facilitating technical or behavioral sessions
Key takeaways
Participants will learn how to:

Create a safe container for learning through a dialogue-based discussion
Leveraging and building on the ideas of their participants
Being sensitive to the unstated context in the classroom
Understand diverse behavioral and learning styles of participants to ensure that learning occurs in a time-bound manner
I have observed how Shyamli brings her passion, honesty and a deep desire to excel in all her workshops related to leadership effectiveness. Her ability to connect and make a meaningful impact on her audience based on the content and context of her training modules makes her a valued coach and facilitator for senior leaders. I would strongly recommend her for senior management training programs.
I have known Shyamli for a few years and she has regularly conducted leadership communication workshops and training programs for our company.

The participants always found the programs well designed and structured, and full of fun and learning.

Shyamli's preparation for each of the programs is very detailed as she speaks to the participants in advance to understand their needs and then matches this with the objectives of the organization.

She has a special ability to connect with participants of all levels which they always appreciate.
I had the pleasure of attending various leadership workshops conducted for senior business leaders at Cairn by Ms. Shyamli Rathore in the areas of Emotional Intelligence, Managing Talent, Building your Leadership Presence and some others. I was struck by her excellent understanding of the business and ability to make seemingly esoteric concepts very applicable to the work that we were doing in a simple and engaging manner. Shyamli's ability to create a huge engagement with her audience (despite their diversity), her powerful facilitation style and ability to ask relevant questions related to the business problems made me internalize and use these concepts effectively. I have attended many workshops during my career, but I would rate her work as one of the best I have come across so far and would recommend her to any organization of repute. I wish her all the success and happiness in her venture.